The principles of this site.

Priniciple #1. This is not a discussion board.
This is with some regret. I realize that I will make errors, and having others proofread can be valuable. I realize that when I explain something there may be lingering questions. This can be due to the general lack of answers (nobody knows) or because I explained something poorly or in a misleading manner.
However, there are problems with allowing posts and discussions. It is the purpose of this log to form a cohesive narrative. While very valid points can be made by jumping between topics, it waters down the presentation at hand. This is a massive case. There are discussion boards that jump from topic to topic. There are archives of case documents. Either of these places with their jumble of information and their leapfrogging around of documents can be very intimidating for the neophyte. There are advocacy sites that attempt a cohesive narrative.

Principle #2. I will accept emails but will not be responding to most.
When Robert Frost was asked to explain the meaning of a poem, he said, no. That would be to restate the poem in "worser" words. I choose to devote my time to covering more topics. Responding to emails requires going over previously covered ground or dealing with future topics in an incomplete manner.

Principle #3. This is not primarily an advocacy site.
It does not exist to advocate for the release of the West Memphis Three.
Although I do not believe in their guilt, I am focused on the crime itself. The validity of evidence against them is of equal interest to me as is the validity of evidence against others.

Principle #4. I have little interest in a number of topics that interest others in this case.
I do not visit discussion boards to get into arguments with anyone. These arguments are often tit for tat. Some connect to this case because of the demonization of the musical tastes of the convicts. (Rock and roll lyrics were collected as evidence.) I own approximately 300 CDs. One is heavy metal (Led Zeppelin). My tastes are jazz, classical, folk, and early rock.
Principle #5. This site will not have graphic photos of the violence committed on these children. If necessary to illustrate a point, a small patch of skin may be presented or else preferably a drawing.

Principle #6. You may quote from this page or provide external links. Please do not direct link to photos here. You may link to the page or
copy photos from this page for posting elsewhere.
Although you may quote, you may not wholesale copy the pages for dissemination.

Principle #7. The documents are cited with spelling and grammar errors intact. Often there are many, sometimes they are odd or humorous. An ice cream seller was referred to as working for "Frostie Threats" rather than "Frostie Treats." Jessie Misskelley is said to have "confused" rather than confessed. Often I do not employ the term "sic" to denote that the error is as appears in the original document. I would have to do this too often. I apologize if I added any errors during transcription, this was unintentional. An exception to this principle was using a corrected transcription of Misskelley's confession as there were hundreds of errors in the original police document. In this instance I had access to a copy of the audio recording.

Principle #8. This is not primarily a news site. There is much late breaking information on the case. This site does not attempt to deal with matters which are in flux, but that which is part of the historical record.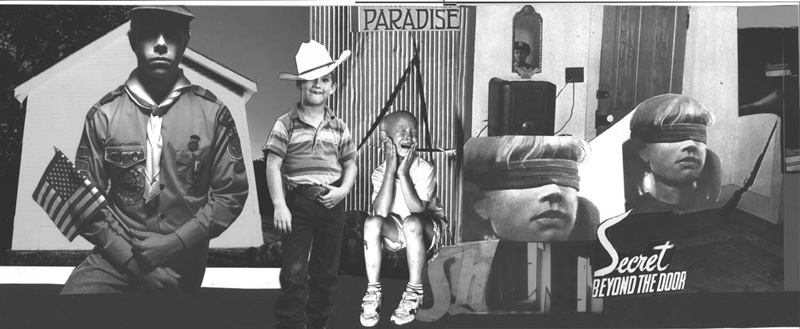 Lost. Part one of triptych