The Marked Tree Incident: The Life Cycle of a Rumor

The small town of Marked Tree is about 30 miles north of West Memphis. On May 14th, 1993 Linda Wright, a fourth grade teacher at Marked Tree Elementary informed police that a student of hers, Loretta Smith, told her that Michelle Elinburg had said that her brother, "Damien Elinburg" was the murderer. A music teacher from the same school reported that four or five of her students (although she could not remember which) said that the murderer was someone named Damien who had changed his name from Michael and who was a "satist or a devil person."
The next day, officer Bill Durham of the West Memphis police headed to Marked Tree bringing along a photo of Damien Echols. The chief of police, a second officer and a family member of still another officer, identified the person in the picture as the one they knew as Michael Elinburg. Officer Durham was told that Michael Ellenburg lived with his aunt, Anita Hendrix in Marked Tree.

On the 17th, Detective Hester spoke directly to the fourth grader, Loretta Smith. Loretta said that Michelle Elinburg told her that her brother Michael was with Damien and they killed the boys.

Also on the 17th, Anita Hendrix, mother of Michael and Michelle Elinburg came in for questioning. She helped sort out the family and relationships. The Elinburgs were not related to the Echols, although she occasionally stayed with Pamela Echols, Damien's mother. Anita's estranged husband lived in the same trailer park. In notes dated the 21st, she was quoted as saying her son Michael was out of town staying with his aunt on the fifth.

On the 18th, 16 year old Michael Elinburg was brought in to the West Memphis police department. He was fingerprinted and a background check was performed with negative results. There was nothing in his file as to whether he was questioned about or discussed his activities on the fifth of May.

Notes dated the 24th of May say that Pat Peninger, a co-worker of Anita Hendrix, overheard Anita say that Michael Elinburg was the murderer and that she was hiding her son from the police. A note dated a month later from Detective Durham said that he followed this up and that Peninger never made these remarks. The source of this story was another co-worker named Mary Austin who was a "Valium freak" and who had tried to convince police that Anita's car was full of body parts.

It wasn't until well after the arrests of Echols, Misskelley, and Baldwin that, on the 15th of June, Michelle Elinburg was brought in. She provided a written statement saying that she had never told any such story to Loretta Smith. That same day, Loretta Smith wrote: "It was all a lie and I'm sorry that I said it ok I promise to god that I will not say it again. I will never say it again and Michelle did not say what I told you I was the one who made that up and she did not tell me anything. I told you that Michelle told me that Michale (sic) Echols and Micheal Elinburg killed them boys and it was a lie."

It did not end there. Another month passed and on July 20th, an alibi was finally obtained from Michael Elinberg and checked out. Ronald Smith (Loretta's brother) said that Michael was with him at a nursing home on the evening of May 5th. A handwritten statement from Michael's mother on this date corroborated this.

This story is illustrative of several aspects of this case. The events were initiated by a thirdhand story. A teacher heard from a student who heard it from the sister of the alleged perpetrator. As in many instances in this case, it was passed along by children. Perhaps the reason so much effort went into pursuing these stories is that the rumor involved Damien Echols. A second set of rumors was passed along by a disturbed co-worker.

Following up on these rumors, basic misinformation was propagated: a photo of Damien Echols was identified as being Michael Elinburg. Oddly, this misidentification was agreed on by three individuals, including the local chief of police. As with other suspects in this case, the Elinburgs were brought in but, if they were asked the most basic questions, no notes were taken.
As happened in a number of instances in this case, the sensible follow-up occurred later, after others were arrested. In this case the child who started the rumor, retracted it, in no uncertain terms. If there was a further depth to any of this story, it was not pursued. This includes the seeming contradiction of Elinburg's mother saying that she was not with her son who was out of town that day while later confirming his alibi. The officers made multiple interviews of ten individuals over a period of two months pursuing nothing long after it had evaporated. This is an example of how rumor played a critical role in steering this investigation.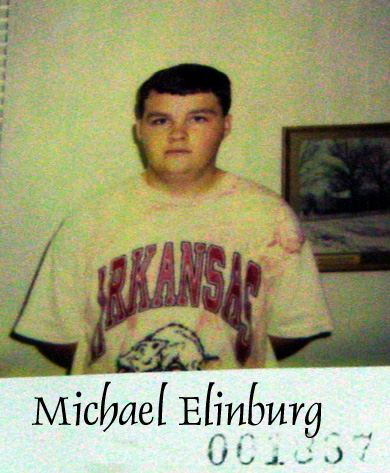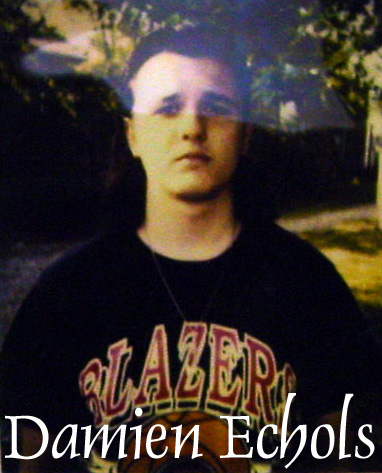 A police officer and the chief of police misidentified a photo of Damien Echols, saying
he was the same person as Michael Elinburg who was claimed to have confessed.
Derived from Statements/Documents:

Robin Wright
Vicky Bingham
Loretta Smith
Anita Hendrix
Michelle Elinburg
Michael Elinburg
Pat Peninger
Ronald Smith