State's Exhibit 77, The Lake Knife
Ridge:

Okay, now when this is going on, when this is taking place, you saw somebody with a knife, who had a knife?
Jessie:

Jason [Misskelley confession, June 3, 1993]
Each of the victims had dozens of injuries. At the time, a few of these were directly ascribed to cutting instruments, but they were significant injuries, including the gouging of Steve Branch's face and the removal of Christopher Byers' testicles. In Misskelley's confession he made clear the type of knife he saw. In the appeal filings, the gouging injuries have been ascribed to animal predation.
Ridge

: Alright, you're describing a knife that would be about 6 inches long, is that right?
Jessie

: Yes
Ridge

: And, what kind of blade did it have on it?
Jessie

: Uh, like a regular knife blade
Ridge

: Was it a knife that you fold up, or was it like a hunting knife?
Jessie

: It was
Ridge

: Just one piece
Jessie

: Just a fold up knife
Ridge

: It was a folding knife?
Jessie

: Yes. [ibid]
Even though Misskelley stated that a folding knife was involved in the crime, the knives that played the most prominent roles in the trials were fixed-bladed.

Knives Entered Into Evidence
There were 20 knives entered into evidence. Three were described as found near crime scene. Four were identified as retrieved in the searches of the defendants' and Domini Teer's residences. Six came from other named suspects. One came from Spring Lake in Lakeshore.
Item E23 was entered into evidence May 12, 1993.

Items E26 through E41 submitted into evidence May 13, 1993

Items E57 through 59 were submitted on May 19, 1993.

Items E74 through E135 were entered into evidence June 9, 1993.

Item E140 was not noted as to when it was entered into evidence on the evidence lists.

E140 Knife from Donald Warwick.

Item E147 was not noted as to when it was entered into evidence on the evidence lists.

Item E169 was entered into evidence on November 18, 1993.

E169 Black handled survival type knife, blade length approximately 9 inch, handle approximately 5 inch in length. (Referred to as Lake Knife)

Item E176 was submitted into evidence, December 22, 1993.

Item E178, January 10, 1994.
Although three knives were found near where the victims were recovered, none were linked to the crime. The source of at least one of these knives was determined. Kent Lynn, 15 years old, said on May Second he was with some of his friends just north of the pipe. He said he broke his knife and left it there. (Lynn would be dead at age 23, his hanging in the Crittenden County jail ruled a suicide.)
Probation officer Steve Jones turned over one knife to the police. On June 8, 1993 he told Jerry Driver that "he had an informant involved with certain individuals in the area who were participating in ritualistic animal sacrifices." They went to an overpass and found the carcass of a cat, the bones of an unknown animal and a pile of bones from ten to fifteen pigeons. They encountered a knife in the dirt and called in the Marion Police Department.
Three knives were taken from suspect Richard Cummings. A possible piece of tissue was found on one and it was sent to Genetic Designs for testing. No DNA was found. This could have been because it was too small an amount of evidence or because it wasn't human tissue.

None of the four knives seized during the searches had trace evidence connecting them to the crime and they were not featured in the trials.

Jason Crosby was responsible for providing two knives. On the morning after the arrests, Crosby, 15 years old, approached his principal with a concern that he may be considered involved in the murders. He said someone had slipped a boot knife into his backpack at school and he didn't know who it was. The principal wrote up a report stating that Crosby had said "he knew the boys that were just announced on t.v. as the killers, were guilty of killing the three boys" and Crosby knew "Micheal Echols was in to satin worship." The knife was turned into the police.

In a September 2nd interview with prosecutor John Fogleman, Crosby said that he had not told his principal that he knew who were the killers nor had he said that he knew Damien was a satanist. He again related the story of the knife being slipped by an unknown person into his backpack. Fogleman explained why this knife was significant.
Fogleman: The reason I'm asking these questions the. . . this knife, the crime lab says that knife has fibers on the that came out of Jason's house and came out of Damien's house from some clothing of Damien's. [Jason Crosby interview, September 2, 1993]
After being asked to take a lie detector, Crosby confessed Rick Appling had given him the knife but he didn't want to get Appling in trouble. He said Appling was not really a friend, that Appling hung out with the "high society people which would be the people who come to school in shirt and tie, don't want to get messed up, want to stay on the sidewalk all the time." Appling had taken the knife to school for protection and then had to hide the knife because someone had told the school authorities he was carrying it.
Later in the month, Rick Appling gave a statement confirming he had given the boot knife to Jason Crosby. This knife, with its odd pedigree, was the source of fibers that were found microscopically similar to those from a shirt in Echols residence and the toilet seat cover in the Baldwin residence. Other than the fibers, no evidence was offered that it had been in the presence of Echols or Baldwin, in fact, Appling stated that it hadn't. Still the fibers from this knife would play a key role in the trial and be a point of Fogleman's closing arguments.
Jason Crosby also told the story of a different knife, one that had been in the possession of Damien Echols. He said Damien had left a knife on the dashboard of Crosby's truck back in February. Crosby had later turned it over to Paul Morrison, a reporter. Crosby promised to get this knife and on September 16th, turned it over to the police.

None of these knives was to figure prominently in the trials. That would change with the discovery of the Lake Knife.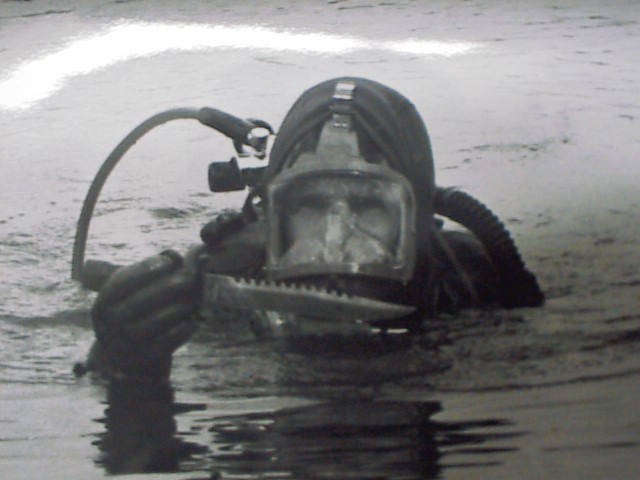 Discovery of the "Lake Knife," November 17, 1993