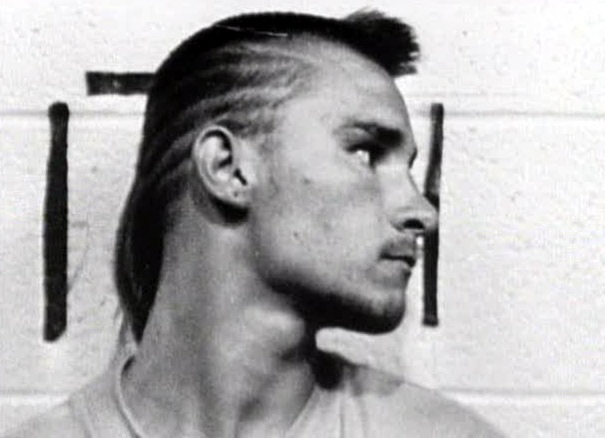 Jessie Misskelley, Jr., arrest photo
The confessions.
The defining piece of evidence in this case is the confessions of Jessie Misskelley, Jr. Misskelley confessed to being present at and participating in the murders on several occasions, both before arrest and after his conviction. His "insider information" was argued as proof of guilt at his trial. He has also regularly denounced his confessions, pleading innocent at trial. Misskelley's confessions were virtually the only evidence presented against him. As a January 31st, 1994 article in the West Memphis Evening Times regarding Misskelly's trial declared:



Parents Want More Evidence



CORNING (AP) -
The parents of one of the three 8-year-old boys killed at West Memphis were hoping to see more evidence connecting a defendant to the slayings when testimony resumed today in his trial.

(snip)
Terry Hobbs, stepfather of Steve Branch, said after testimony ended Friday that he was troubled by the prosecution's presentation so far.
After an agonizing day of hearing police investigators and a medical examiner recount grisly details about the boys' deaths -- and evidence that three teens charged in the killings were members of a satanic cult -- the victims' parents had waited eagerly for the prosecutions' knockout punch.
But on Friday, the family members sat perplexed as the prosecution presented a procession of expert witnesses who testified that a battery of tests on hair, cloth fibers and other items failed to produce any physical evidence linking the accused to the crime.
"Maybe it's their technique or whatever you want to call it, but I didn't see no logic in it," Hobbs said.
"It's not over yet," Steve's mother, Pam Hobbs, said of the prosecution's case. "Maybe they'll do a better job (this) week."
Another Evening Times article on the same day, declared:



Prosecution Rests Case In Murder Trial



The following Powerpoint presentation is a forensic linguistic analysis of Misskelley's pretrial confessions. It examines what Misskelley said and whether he demonstrated evidence of insider information. It does not attempt to answer the question of why he confessed.

Powerpoint Presentation
Exhibit B was the supporting document for obtaining the search warrants. Below is a link to an analysis of the claims made in Exhibit B.
Exhibit B of the Search Warrants