Ghosts of Crimes from the More Distant Past
In May of 1693
, the last of the Salem Witch trials ended. After twenty "witches" had been put to death, the populace awoke from their madness and all remaining defendants were set free.
In May of 1993
, the murders of three children in West Memphis, would inaugurate a new witch hunt. There are other interesting parallels.
In 1688, presaging the mass witch hunt, a witch trial took place when the

Goodwin

children began exhibiting bizarre behavior. The laundress Goody Glover was accused as being responsible. The Reverend

Cotton Mather

met with her and tried to persuade her to repent of her witchcraft. She was later hanged. Later in the year, Mather publishes "Memorable Providences, Relating to Witchcrafts and Possessions."
1993, West Memphis. Three children disappear after last being seen walking on

Goodwin

Street. As part of the investigation of their murders, the police obtain a list of books Damien Echols has checked out from the library, including a book on witchcraft by

Cotton Mather

.


1692, Salem. Several young children begin exhibiting the same sort of strange behavior as the Goodwins. The village doctor determines Satan is the cause.

John Hale

, minister and chronicler, describes the seizures as "beyond the power of Epileptic Fits or natural disease to effect."
1993, West Memphis. After a massive search, the village probation officer finds the victims and declares a witch to be involved.

Kent Hale

, coroner, pronounces the three victims dead.


1692, Salem. The

children

identify several area residents as being witches, saying they witnessed them perform strange rites and overheard them declaring their allegiance to the

devil

.
1993. Several

children

come forward and say they heard Damien Echols was a

devil

worshipper and say he had proclaimed that he had murdered the children.
June 2, 1692, Salem. The trial and sentencing to death of Bridget Bishop, the first among those in the massive witch hunt to be pronounced guilty of witchcraft and condemned to death.
June 3, 1993, West Memphis and Marion. Three teenagers are arrested for homicide. A Satanic ritual is said to be their motivation.
June 10, 1692, Salem. Bridget Bishop is hung. Her last words were, "I am no witch.

I am innocent

. I know nothing of it."
March 1994. "When Burnett asked each if there were any reason the sentences should not be carried out, Baldwin said, 'Because

I'm innocent

.'" [March 20, 1994, Memphis Commercial Appeal]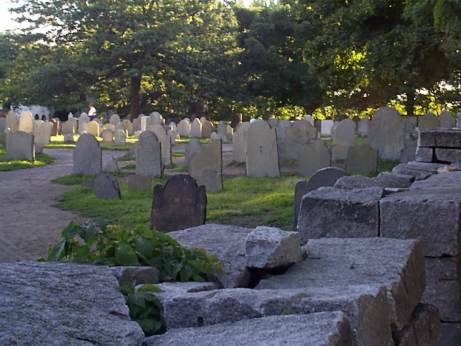 Salem Cemetery