State's Exhibit 18. The shoe and other items floating in the creek water.

Evidence Gathered.

The list of evidence collected from the area where the children were found included the clothing (E1 - E14), discussed extensively on another page. Other items are listed below. The missing numbers correspond to evidence collected from suspects and other sites.

E-1A One bag of clothing found in the area of the homicide including: pair Jordache 33-34 jeans, two Bic razors, one piece plastic bag, one pair white socks, one medium black shirt, one large kacki short sleeve button up shirt, and one Road Runner plastic bag.

E-15 Plastercast shoe print

E-16 Plaster shoe print

E-17 Wooden stick found at crime scene

E-18 Mud with shoe tread design

E-19 One brown bag containing 1 hook and 1 lenght (sic) of rope found at crime scene

E-21 One brown box containing impressions of possible fingerprints in mud

E-41 One paper sack containing another nylon sack for strength only. Inside sacks are contained: one claw hammer, three steel balls, and one small knife. Items found in ditch near the scene of homicide.

E-42 One glass Mason type jar containing a water sample from the area of homicide.

E-49 Piece of aluminum wire found on the scene by Detective G. Gitchell

E-57 Knife found near scene

E-130 Doral cigarette package foun near at scene (sic) of homicide

E-132 Wooden slats recovered near scene of homicide. Trace evidence and compare to any visible wounds on victims as a match

E-138 and 139. Sticks found near crime scene.

The shoe print below (as represented in E-15, 16, and 18) was introduced as evidence at trial by the defense, because it was much larger than the shoe sizes of the defendants.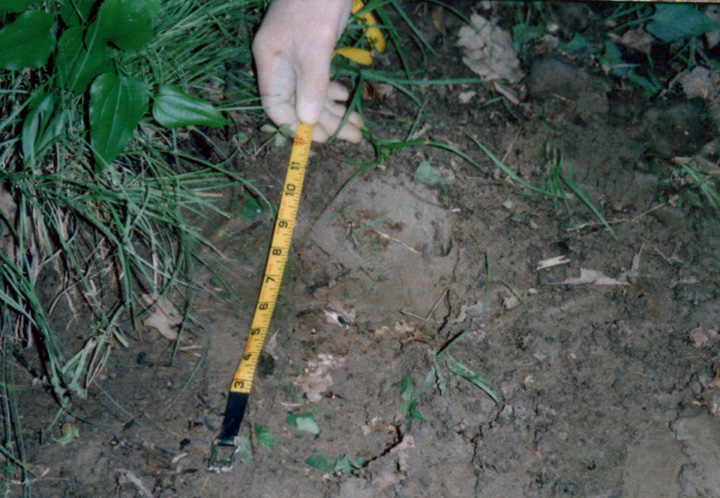 Defense Exhibit 4C, photo of a footprint near discovery site.



The rusty hook (E19) was picked up Detective Ridge as shown in stills from the crime scene video, below.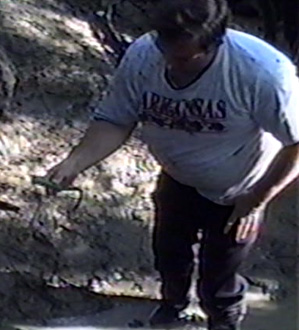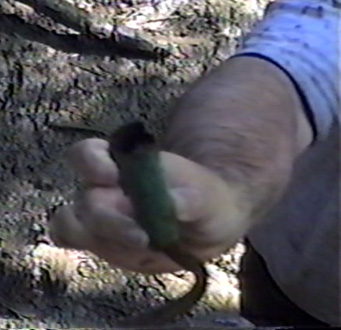 Rusty hook, E19. Crime scene footage.



South of where the bodies were found were several slats of wood connected in the form of a section of a fence. Near this was several free slats (E132).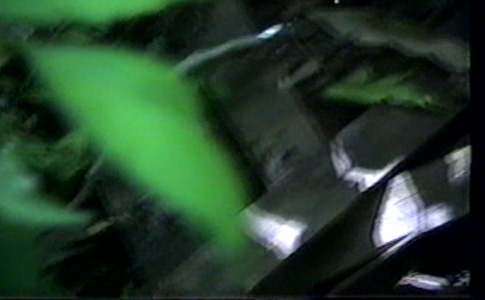 Slats of wood. Footage taken after bodies were recovered.

Sticks. One stick floating in the water near the bodies was taken into evidence immediately (E17). A stick that was holding down the clothes was collected two months after the crime (E139) along with another stick of similar size (E138). E138 and E139 were presented as possible murder weapons. The ruler shown below is 36 inches. E138 and 139 were approximately 42" long and 3" in diameter.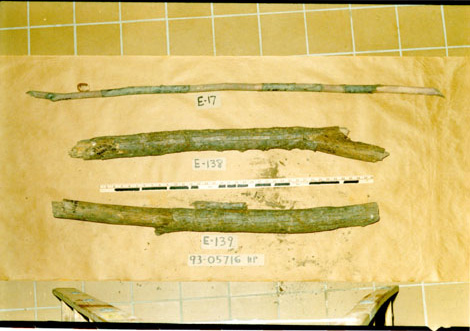 Sticks collected as evidence.
Evidence Left Behind
A cigarette pack is among the evidence collected. While it, the rusty hook and some of the other items above are probably garbage and unrelated to the crime, there are other items that were not collected. This is not because the crime scene was riddled with garbage, only an occasional piece of trash is apparent in the crime scene videos and all of these are summarized below. It is easy to imagine one or more of these could have been handled by the criminals. The items shown below are not listed among those submitted for trace evidence or fingerprints.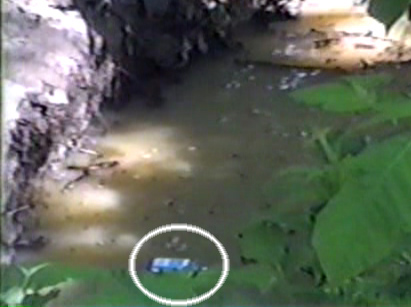 A liquor bottle (circled). Crime scene footage.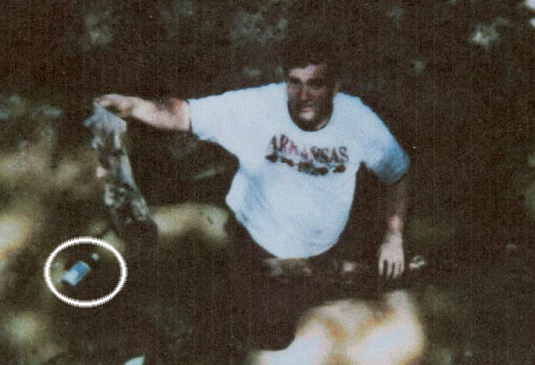 A different liquor bottle (circled). State's Exhibit 38.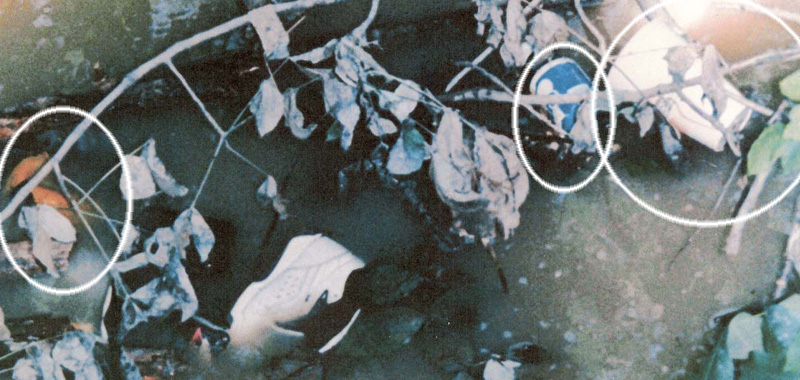 A styrofoam cup and a Sprite? bottle (each circled). Also, one of the shoes and what may be the cub scouts cap (circled). Photo, State's Exhibit 18.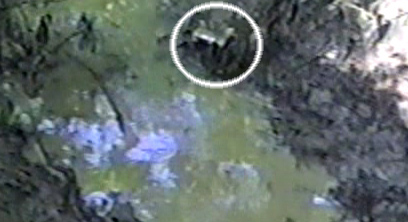 A can? (circled) Crime scene footage.



A second crime scene video is shown being made but was not available to the defense (below).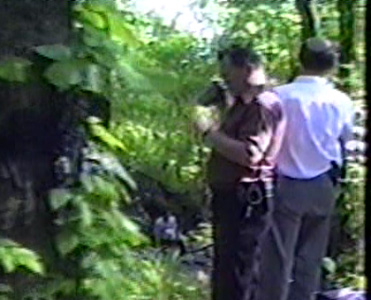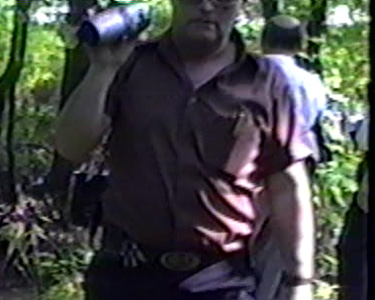 Second cameraman next to Detective Gary Gitchell. Crime scene footage.

The police and prosecution made claims that one bank was uniquely slicked over as though it had been cleaned. They also claimed that the nearby meadows had no signs of tire tracks and could not have been used for bringing the bodies to this location for disposal. Thus, the murders must have taken place here. A second video could have helped evaluate such claims.

The slicked down bank.