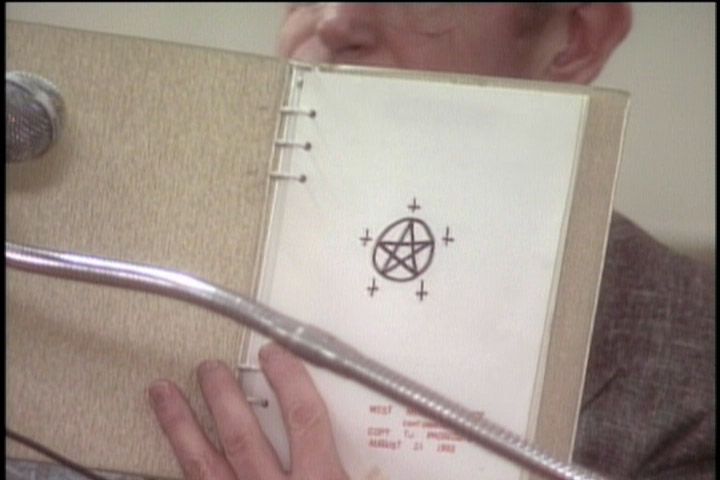 Dale Griffis holds up a drawing by Damien Echols in court. Griffis testified that this drawing represented a confused mix of symbology, with the five pointed star pointing upward representing goodness (as opposed to a star pointing downward which represented evil). The crosses were said to be inverted and signs associated with Satanism.

Damien's Demons, Part One
Exhibit 500

In the months before the murders, the maximum reimbursement an Arkansas lawyer could receive from the state for representing an indigent client, even in a murder case, even if the lawyer was assigned to a case against his will, was $100. This law was struck down. A new law was put into effect after the lawyers were assigned to the West Memphis murder case but before the first preliminary hearings causing considerable confusion as to what the attorneys would be paid and who would pay them.

Although the law had changed, the state budget was not immediately adjusted to reflect it. The entire state budget allotted to reimburse lawyers' fees and legal expenses was $55,000 and was described as already spent. In a preliminary hearing the lawyers met to wrangle out their fees and expenses. Ultimately, $7500 was promised for investigations and to reimburse expert witnesses. With this minimal budget and inundated by thousands of pages of police notes, the defense lawyers relied on experts who volunteered their services. Some of these had remarkable qualifications. Warren Holmes, the polygraph expert for the Warren Commission, reviewed Misskelley's polygraph charts and determined he didn't lie when he said he knew nothing about the murders. However, this opinion carried little import as polygraphs and opinions on them are inadmissible in court. Pulitzer prize winner and Stanford professor, Richard Ofshe provided his expertise on coercion and false confessions.

Private investigator, Ron Lax, of Inquisitor, Inc. volunteered his services which included interrogating potential witnesses and gathering mental health background information on Damien Echols. The latter task resulted in what came to be known as Exhibit 500, placed into evidence after the defense referenced it during the sentencing phase of the trial.

At approximately five hundred pages, Exhibit 500 included the hospitalization records of Damien Echols in Arkansas and Oregon and his application for disability. It is a large collection of mental health status reports, personal and family history, psychological testing, and doctors' and nurses' notes. It also includes statements from Jerry Driver, Damien's parole officer.

Exhibit 500 includes many inflammatory statements regarding Damien Echols' bizarre behavior and criminal acts. In the next several pages it will be deconstructed as a set of information and misinformation with Jerry Driver being the source of much of the misinformation. Nevertheless, it paints the picture of Damien Echols' disturbed personality and mind.
The precipitating events and the timeline.
On May 19, 1992, seventeen year old Damien Echols was arrested with his fifteen year old girlfriend Deanna Holcomb for breaking into a vacant trailer. They were running away together and, at the time of apprehension, were caught partially dressed and in the closet. According to his arrest report, Echols was charged with burglary and sexual misconduct. He was later convicted of breaking and entering and second degree sexual misconduct. He was remanded to Craighead County Juvenile Detention Center. While in detention, he expressed a plan for suicide, to tie sheets together and hang himself. He was sent to Charter Hospital in Little Rock for intervention and stayed there for a little over three weeks.

Echols seemed to believe there were more charges than this, telling his psychiatrist he was also charged with disorderly conduct and terroristic threatening, charges which he denied. Although not charged with making threats, he described his thoughts to his therapist
. . . while he was waiting in the police car to be taken to juvenile detention or jail following having been arrested, that he witnessed his girlfriend's father coming toward her as she waited with police offers in an aggressive manner. Damien states that he was able to work his fingers loose, moved over and was able to slip the safety off of the police officer's gun which had been left in the police vehicle. Damien freely admitted he had plans to shoot the girlfriend's father if he acted in an aggressive manner toward the girl. (p. 383, Exhibit 500. Page references below are also Exhibit 500 unless otherwise noted.)
This was described more explicitly elsewhere
"If he would have hit her I would have blown him away." referring to fr. of girlfriend. Also stated "Next time I will eliminate that person." fr. = father, Deanna Holcomb's father (p. 295)
Jerry Driver describes the incident with details found nowhere else.
gf and pt. ran away. Conflict c law. Threats to kill officer. Kill gf. dad.
(p. 366) Note: gf = girlfriend; pt. = patient (Echols); c = with
The differences, not minor ones, are whether Damien thought about harming the father or whether he made actual threats to kill the father and an officer.
When the therapists referenced this and other incidents they would sometimes include the incorrect or additional information from Echols or Driver which then became part of the record. Just after Driver's statements, the doctor includes the incorrect information in his notes:
"Damien was on probation due to threatening his girlfriend's parents." (p. 368 - Now it appears to be both parents. The breaking and entering and sexual misconduct were the reasons for his probation.)
Echols stayed at Charter House until June 25, 1992. He was discharged and moved with his family to Aloha, Oregon. There he worked full time with his father at a BP gas station. He was remanded to St. Vincent's Hospital in Portland for two days beginning September 2, 1992. According the police report, he was threatening suicide. The hospital notes say the reason the police were called was because of a fight with his father. In a later letter to the court, Damien's father would downplay the incident.
"While we were in Oregon, Michael got really sad, like the time when we were driving up there. One day he locked himself up in a closet and had taken something in there with him. His grandmom told me that Michael had a knife. I thought that this was really serious and Pam and I made him go to a hospital in Oregon. Michael got really upset with me and I lost my temper and, after I yelled at him, he got even more upset. I feel bad about this whole incident because what started it was when Michael's grandmom told me that he had a knife. I do not know why I immediately trusted her, instead of checking it out, but what I found out later was that Michael may have just had a spoon with him." Written statement to court, Joe Hutcheson.
In contrast, Jerry Driver said that he spoke with Damien's parents and made claims including
Threats to kill dad. Threats to live [sic] both parent (slash threats eat alive) (p. 366)
Which became part of Damien's intake record, page 367.
Ran away from parents after threats to kill them by cutting their throats and eating them.
And then these were later incorporated into his record with additional information not found elsewhere, some of which was incorrect.
"When the police picked up both Damien and the girlfriend, Damien made threats to kill the police officers, the girlfriend of the father (sic), and had confessed to devil-worshipping behaviors and activities. . . While in Oregon, Damien had conflicts with both mother and father and at several times threatened to kill his father. . . Damien was moved to the detention center in the Oregon area." p. 374.
Damien was not in a detention center in Oregon. The arrest record in Arkansas does not include threats to officers or his girlfriend's father (or father's girlfriend). There is nothing to support that he confessed to devil-worshipping behaviors when arrested, and Jerry Driver makes it clear in his December 1993 statement that he had only secondhand sources regarding Damien's devil worship much less statements to police. Nevertheless, such statements became a damning part of his record.
After leaving St. Vincent's hospital in Oregon, Damien returned to Arkansas. He was arrested after several days with Driver presenting the reasons as "Violation of probation by threatening the life of his mother and father and refusing to obey their lawful commands." (p. 345) Perhaps Driver's quick intervention was related to the concern he expressed when he and Steve Jones patrolled Crittenden County on full moon nights trying to prevent human sacrifices. It was also expressed in a note to Charter Hospital:

"[Driver] Says he [Damien] is going to eat father and needs to be locked up or he will hurt someone." p. 341

While in Craighhead County, Arkansas Juvenile Detention Center, an incident occurred. According to the report, "One of the boys scraped his arm a little, it was bleeding some. Without warning, Damien grabbed the arm that was bleeding, and began to suck the blood from it. (page 464)" Damien was transferred back to Charter Hospital and stayed there from September 14 to September 28.
The remaining files in Exhibit 500 correspond to Damien's follow-up visits to a psychiatrist in West Memphis and his 1993 application for disability benefits based on mental problems.
So what was real? [Continued in: Damien's Demons
Part Two]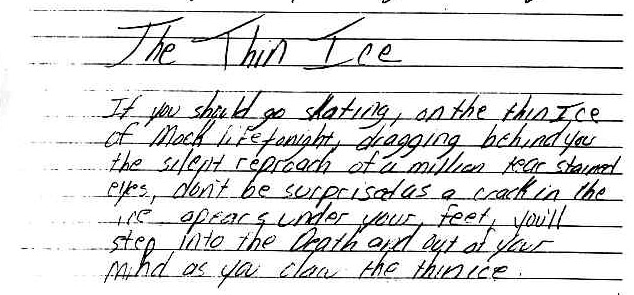 An example of Damien's nihilistic writings, quoting the lyrics of "The Thin Ice," by Pink Floyd. Part of Exhibit 500.