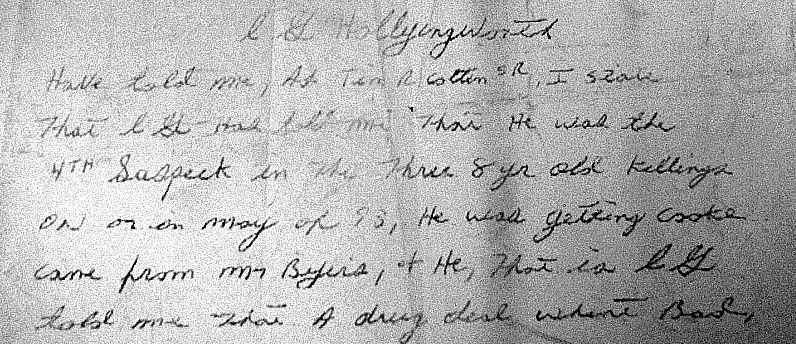 Timothy Cotten, handwritten statement, March 4, 1994.

Strangers on Bicycles
A stranger on a bicycle is a recurring theme in this case. The police questioned Mark Byers. In a section referring to Mark Byers search for the children in Robin Hood Woods on the night of the fifth:
Detective Ridge

: Let me ask you something. Did you see a young, white male riding a bicycle? Wearing a red shirt. Bicycle with black, like an all-terrain bicycle?

Mark

: I saw a guy that I had never seen in the neighborhood before that acted like he was helping us search. He was on one of the bigger bikes kind of like a racing size bike. You know, it wasn't a little bike. It was kind of a full size bike.

Ridge

: Did it have mud grip type tires on it?

Mark

: It seemed like it did have mud grip type tires on it. Uh, he was slender and had real short hair and kind of a thin face. Uh, I don't remember if he had a red shirt on or anything. But I remember his face because I thought, boy it's just a real thin face and his hair was really short. Almost military short. It was real short. But he said I've been riding my bicycle down there looking for ya'll. He said, I'm helping ya'll look, you know, and I said thank you and we just kept on going.

Ridge

: You remember anybody, he had a flat on his bicycle and he came back from across the pipe. Do you remember, were you there when somebody came back across the pipes with a flat tire?

Mark

: No sir. [John Mark Byers police interview, May 19, 1993]
Although this individual is not identified in Byers' interview, it is possibly Timothy Cotten. A May 27th tip from two women describes an encounter with Cotten that evening.
Received a call from Sally Brady and Gina Riccio about the nite the boys were missing Wednesday nite and they were out driving around trying to assist in locating the missing boy. They advised they saw Tim Cotten from Lake Shore riding a bicycle that was green and yellow go into Robin Hood Woods at dead end of McAuly and as they were driving around Goodwin about 45 minutes to 1 hour later they saw him again coming from the other end of Robin Hood and was wet and muddy all over and they heard him tell some of the Search + Rescue people he had fallen in the bayou and was going home and change clothes. They said he was a weird acting guy and just wanted to check him out. He was seen going in woods around 10 pm and coming out around 11 pm.
Gina Riccio ###-#### C Dabbs
In the book, Blood of Innocents, this encounter is moved to the next day and now he is driving an all-terrain vehicle. Some of the additional information suggest the reporters interviewed Cotten.
26 year old Tim Cotten was looking for a job at the Blue Beacon that morning when he was asked to join the search. Cotten went home and retrieved his four wheel all-terrain vehicle and head for Robin Hood, throttling down the mud-caked trails and boggy undergrowth. Near the east end of Robin Hood, two women watched as Cotten, covered in mud and water, emerged from the woods. He was a strange sight, the women thought. Pale blue eyes staring out behind the mud and funk that enveloped him. Cotten told search and resuce workershe had fallen into the bayou and was going home to change clothes. [snip] The two women observers couldn't put their finger on it, but there was something about Cotten that bothered them. They made a mental note. Meanwhile, Cotten was having strange thoughts of his own. He couldn't get over how the wooded area north of the pipe seemed to smell like blood. [p. 48]
Cotten confirmed the job hunt and his search for the victims during a later interview. "Timothy Cotton stated that around May the 5th or 6th he had left his house on Wilson Street and was going to a job interview. Along the way he learned of the three boys missing. That someone in the rescue squad asked him to help look for the boys at which time he borrowed a 4 wheeler and helped look, but did not find anything." [Timothy Cotten interview, summary notes, Lts. Sudbury and Durham, March 8, 1994]
It is a painful irony that he began looking for a job at virtually the discover site and then went to search from there.
Another tip was placed in Timothy Cotten's file and marked with his name.
Ref: Tim Cotten
5/24
F/W called advise that M/W first name either Tim or Tom is possibly responsible for the murder of the three 8 year old youths in Arkansas earlier this month. Caller advised that m/w is into self mutilation and has broken bottles and cut himself in the presence of his siter. His sister advised the caller that her brother had killed animals before and that when she heard about the boys she suspect her brothers involvement. Suspect's sister name is Tamara and she works as a cocktail waitress at the Gulfstream lounge. Caller stated that the reason she believes he is involved is that he works at at the Blue Beacon Truck Wash (The three youths were found behind the Blue Beacon) Caller advised that Tim has been in an institution and like to play around with 5-8 year old boys.
Timothy Cotten was among the first questioned. He was brought in on May 8th, polygraphed and released. His intake sheet described him as 5'11", 152 lbs and brown haired. He lived several doors away from the Byers around the corner on Wilson. He lived with James and Carolyn Burch who were recent residents at 1120 WE Catt the former residence of the suspect, Jerry Nearns. This house was vacant and is listed as part of the search on the day of discovery. Notes from Cotten's interview were not available in his folder.

The story of Timothy Cotten did not end here. A year later, in prison, he claimed to have a conversation with one of the confessed killers. From the Memphis Commercial Appeal,
Police received another tip March 8 [1994] that Byers's drug connections may have played a role in the murders. That day, a Crittenden County Jail inmate said L.G. Hollingsworth, also incarcerated at the jail on forgery and burglary charges, told him the murders happened as a result of a bad drug deal in which Hollingsworth had conspired against Byers.

"He told me that he and Damien made a deal, just to get the Byers boy and hurt him real bad," inmate Timothy Cotten, now 28, said in a written statement.
The text of Cotten's handwritten letter is presented below.
Statement date 03-04-94

On the 02-28-94 L G Hollyingworth have told me, as Tim R Cotten Sr, I state that L G has told me that he was the 4th suspeck in the three 8 yr old killings on or in may of 93, He was getting cooke came from Mr Byers, + he, that is L G told me that a drug went bad, + he + the three young men, to even with Mr Byers, ? put a hit on his family + he told me, that he + Damien made a deal, first to get the Byers boy + hurt him real bad, + he went on for about a week, telling me Tim Cotten Sr I wanted no if he could trust me + I told him yes, + he said the two other boys was not part of the hit on the Byers family but they were all together that day oh yes there are two other people that helped the killers. That pretty much all I no that L G had told me be for I was put in P.C. 03-04-94
Cotten was interviewed on March 8th by Lts. Sudbury and Durham regarding his conversations with LG. Only summary notes are available. Additional details not included in his handwritten statement include: LG went to cult meetings with Damien Echols, an older man presided; LG had a knife belonging to Echols; and, ". . . after the killing he had someone pick him up and that person was driving a green and white van and they lived in Lakeshore on the back side near the sewer plant." [March 8, 1994 interview notes]

In summary, Cotten had a number of connections to the case.
He was an employee at Blue Beacon.
He lived in the neighborhood of the victims.
He says he was searching for the missing kids.
He managed to get himself muddy and wet.
He said it was because he went in a ditch (or else the bayou).
The police polygraphed him, took his fingerprints and ran a check on them.
He was arrested within a year after the murders for an unspecified crime.
The crime was of sufficient severity that the police would state he was using his snitch status to try to get the sentence reduced.
He was in contact in the jail at that time with LG Hollingsworth.
He claimed that Hollingsworth confessed to the crime (also implicating Damien).
Another tip said he liked to bicycle with young children, he was into self-mutilation and killed animals.
Beyond that, there are several other associations that are less clear:
The above event where he got muddy may have happened between 10 and 11 pm on the night of the fifth (according to the women in the police tip) or else the event took place the next morning. (according to Blood of Innocents [BOI]).
He was bicycling when it happened (according to the women) or else on a four-wheeler (according to BOI and his ).
He stated that he was north of the pipe (according to BOI).
He stated that he could smell blood in the area of where the kids were found (according to BOI).
He stated he joined in the search because he was applying for a job at Blue Beacon "that morning." (according to BOI and his March 8 statement).
Other bicyclists.



Gary Ray Chadwick, a transient, was seen bicycling along the interstate at 5:30 to 6:30 pm on the fifth and later at Lehi, a town outside of West Memphis at 10 to 10:30 am on the sixth. He was the first of those polygraphed in regards to the murders. His arrest record was checked and it returned with a long list of small crimes for vagrancy, drunkenness and petty theft. He was dismissed as a suspect.

Another blonde on a bicycle caught the interest of the police.


On May 6th 1993, while in the area of Hamilton + Gathing assisting in the search for the missing youths, I observed a W/M riding on a crome/maroon bike (26") about 5/7 or 8 ruddy complexion, appeared a bit slow (mentally) [Notes, Sgt. P. Hooper]


Although this is a fair distance from the crime scene, Detective Ridge stated in a report this individual was reported in the vicinity of the Mayfair Apartments. "He was identified by a West Memphis Police Officer as riding a bicycle in the area of Mayfair on 050693 while the search was being conducted for the victims." [Ridge, Investigative Report]

His intake sheet identified him as Daniel Wayne Leffler, aged 32, blonde, 5'3", 140 lbs. His occupation is listed as mowing yards. Heavy for his height, Leffler is consistent with the Bailey notes above, regarding a heavy set individual on a bike who mowed yards at 1100 WE Catt. Leffler's interview notes are disjointed, referring to sodomy, dreams about his mother, and answers to five of the prepared interview questions. [Questions in brackets.]


4.

like a animal, truck driver [Who do you think did this and why?]

2.

elect chair [What should happen to someone who did something like this? Should they have a second chance?]

13.

don no nothing [How does being questioned make you feel?]

27.

never heard of it, it would scair me. [Do you believe in white or black magic?]

24.

long time ago [Are your parents alive?]


These notes are too brief to complete a picture of him. He passed the polygraph and was dismissed as a suspect with the same boilerplate caveat given to Timothy Cotten, ". . .unless further evidence is developed that would link him to the crime scene or the victims."