Jivepuppi.com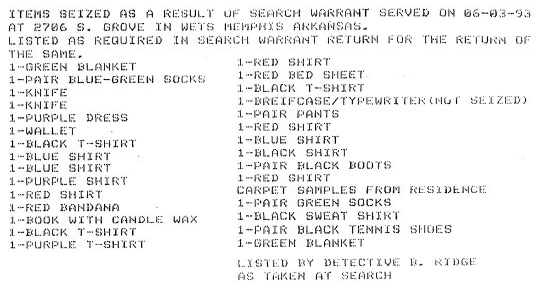 Items seized during raid of Echols trailer. (Original list made into two columns.)

Misskelley's Many Confessions, Part Two

After Jessie's June 3rd confessions Damien Echols and Jason Baldwin were arrested in a midnight raid. The state of Arkansas requires "police to conduct searches between 6 a.m. and 8 p.m. unless the circumstances in which the objects are to be seized are 'difficult to predict with accuracy' or when there is imminent danger that evidence will be removed." [law as cited in Commercial Appeal, June 29, 1993] In order to obtain the warrant, the police had argued that the cult would move to destroy evidence.



Prosecution Fogleman: And based upon your investigation do you believe that items that are being searched for and listed in this affidavit for search warrant are in imminent danger of removal or could be destroyed or disposed of?

Detective Ridge: Yes sir, due to the fact that these boys are a close knit group of cult members, which has been verified by other individuals of the community, other witnesses who we have interviewed, we know they are very close and when they discover that one we have in custody now is missing from their group, they are very likely to destroy any evidence that may be in their possession or in their residence. [Probable Cause Hearing, June 3, 1993]


Which other individuals of the community and witnesses had verified their participation in the cult was not stated.

Perhaps the police expected a quick resolution to the case, that they would find damning evidence. What they confiscated was a lot of clothes. Perhaps they expected one defendant turning on the other or accepting a plea bargain. What they got was three defendants pleading innocence. Perhaps they expected a mental illness plea. Just five years earlier, Barbara McCoy who lived down the street from the Moores and Byers had pled insanity for the murder of her two children during an exorcism. She received a 13 month stay at a mental hospital.

Misskelley's court-appointed attorney Daniel Stidham expressed reluctance to take the case - he had an eight year old child of his own. Nevertheless, he hoped, since Misskelley had confessed, it would be a simple matter of arranging a plea bargain in exchange for Misskelley's testimony. He went on to describe his first encounter with Misskelley. "Here he was, a pitiful dwarf of a kid, sitting on a picnic table in the center of his cell wearing an orange jumpsuit that was too big for him. He didn't look up or say anything. He just stared at the floor." [Arkansas Times, James Morgan, 1996]

With this first encounter, Misskelley confessed to his lawyer. Stidham noted that although Misskelley maintained he was present at the murders, he could not give a narrative of what happened and some of his information was inaccurate.

Even while confessing to Stidham, Misskelley maintained his innocence to his father. "In a letter from the Cross County Jail in Wynne, Ark., received by the family Monday afternoon, Misskelley denied involvement in the slayings. 'I hope that y'all don't hate me because I did not do it,' Misskelley wrote, saying he spent the day on a roofing job with a man named Ricky Deese. 'I can not stand (it) in here much longer. I will go crazy,' the letter said at one point. 'Please try to get me out. I will die in here.'" [Commercial Appeal, June 9, 1993]

Among the items seized from Misskelley's trailer was a shirt with a bloodstain on it. Misskelley claimed he had cut himself on a bottle. The police found that this blood matched that of the victim, Michael Moore, the odds of such a match calculated at 7.2%. However, Misskelley was found to have the same blood type. Stidham began to consider the possibility that his client was innocent. Stidham had Misskelley's polygraph re-examined. Dr. Warren Holmes, at the time one of the foremost experts in polygraphs, volunteered to look them over. He concluded that the polygraph did not show Misskelley lying when he said he was not a member of a cult or was not involved in the killings. Stidham concluded that he had a lawyer's worst nightmare - an innocent client prone to confessing.



Misskelley's trial began January 26th, 1994. Misskelley's defense argued that he had been coerced into confessing and that his confession did not match the facts of the case on key issues. The prosecution presented evidence that Misskelley's confession was voluntary

and that he had declared in his statement that he was not afraid of the police - showing he was not intimidated.

Furthermore, they argued the confession did match the facts on other issues.

Misskelley's lawyers put up seven witnesses who said he with a group at the trailer park between six and seven in the evening when the police came to investigate an unrelated incident at a neighbor's place: James McNease, Charles Ashley, Jr., Jessie Misskelley, Sr., Christy Jones Moss, Susie Brewer and Louis Hoggard. Two police officers who were present at the scene testified that they did not see Misskelley there and one more testified he did not recall. It was surprising that the two officers could recall who was

not

among those at the scene of a minor incident report: they were interviewed about the event six months later, November and December of 1993.

Another four witnesses testified that Misskelley went wrestling with them that evening: Freddie Revelle, Dennis Carter, Jr., Roger Jones and Keith Johnson, leaving about 8 p.m. The prosecution sowed doubt that they were remembering the correct dates. The trial finished on February 3, 1994.

In later appeals, Dan Stidham alleged there was improper interference during the jury deliberations.



"Stidham claimed the judge committed error when, as the jury was deliberating, he opened the jury room door and asked the foreman if the group needed lunch. Stidham said the jury foreman told Burnett they were about finished, to which Burnett responded: 'You'll need food for when you come back for sentencing.' Stidham said the foreman asked what would happen if Misskelley were found not guilty, and Burnett shut the door without answering." [Arkansas Democrat-Gazette September 30, 2008]


On February 4, 1994, Misskelley was convicted of three counts of murder and was sentenced to life in prison for the murder of Michael Moore and 20 years each for Branch and Byers.



Misskelley reacted to the verdict with panic. "Just before sheriff's deputies took him to prison to begin a life sentence in the murders of three young boys, 18-year-old Jessie Lloyd Misskelley Jr. wept. ''He said, 'I'll never make it down there. I'll never get out and come home,' '' said his father, Jessie Lloyd Misskelley Sr., of Marion. ''I told him, 'You're stronger than that; you're stronger than me.''' [February 6, 1994 Commercial Appeal]


Misskelley led away after being found guilty [West Memphis Evening Times, Feb. 4, 1993].

The Police Car Confession.

The prosecution had their own sort of panic. The constitution guarantees the right of defendants to face their accusers. Without Jessie attesting to his confession, it could not be used in the trials of Baldwin and Echols. The prosecution discussed with the victims' family the outlook. "All is not lost if he doesn't testify. But the odds are reduced significantly." [Prosecutor John Fogleman, Paradise Lost documentary] Davis approximated those odds: "Fifty-fifty might be good." [Prosecutor Brent Davis, ibid]

On February 4th, Misskelley confessed to the deputies transporting him to prison. "Deputy James Lindsey and myself [Officer Jon Moody] were transporting Jessie Miskelley to the Arkansas Department of Corrections at Pine Bluff. Jessie was asked if there was anything he wanted to say and after being assured we could not use anything he said against him in court, he chose to talk."
[Officer Moody incident report, February 5th, 1994]
By this time Misskelley had listened to an entire trial full of evidence. His confession appears to be a confused mash-up of presentations by the prosecution and defense.

Jessie pulled information from the defense. The defense asserted that
in his June 3rd confession, Jessie had said the victims were held by a headlock
but then had been led by Inspector Gitchell over the course of several questions to say that the victims were held by the ears. Ultimately, Jessie said, "By their ears and pulling them and stuff." [June 3rd, second taped confession] Even though on tape, Jessie denied he said this during his confession to the transport officers, "Jessie said he did not mention the 'ears' to the police, only a headlock." [Officer Moody incident report, February 5th, 1994]

Another statement seems to be referring to the police officers who testified they did not see Jessie at the trailer court at the time of their incident report. "Jessie stated that Officer Callahan had lied in Court about not seeing him on May 5th." [ibid - although the officers were Dollahite, McCafferty and Oliver]

The defense made a major point that Jessie misidentified the time of the crime and that he said the victims were tied up with rope when in reality they were tied with shoestrings. In deference to the prosecution, Jessie stated why he made these errors. "Jessie said he lied about the time and the rope to 'trick the police and to see if they were lying.'" [ibid]

Jessie added new details. "Jessie said they were hiding behind bushes when Damion grabbed Michael Moore." [ibid] "Jason had a 'bucktype locking knife' and 'cut it all off [from context, Byers' penis] and threw it in the weeds.'" [ibid] In contrast, the police stated testified they did a grid by grid search of the area.

Beyond this, the notes mostly reiterated Jessie's previous confessions including the rape of the victims, the phone call before and after the crimes and Jessie leaving before the crimes were finished.

Perhaps most critical was this note. "Jessie claims he has felt sorry for what has happened and talks as if he wants to testify against the other boys so they will not go free and to help himself." [ibid]



The accompanying article goes on to say, "The motion said Misskelley was
offered a reduced sentence of 40 years in prison in exchange for his testimony."
[West Memphis Evening Times, February 23, 1994]

The Post-Trial Taped Confession.

Misskelley's police car confessions led to one of the most audacious incidents in the case. The prosecution tried to arrange a deal with Jessie, to reduce his sentence in exchange for his testimony in the upcoming trials. First, they met with Jessie's lawyers. They remained unconvinced. While it might be in Jessie's best interest to testify in terms of a reduced sentence, Stidham believed in his client's innocence. He could not suborn perjury. The prosecution pleaded with Jessie's father to convince him with the same lack of success.

A head-on assault not working, the prosecution proceeded to talk to Jessie without his lawyers' consent. After some preliminary interviews, the police transported Jessie from his prison to a jail in Corning to be nearer to the upcoming trials. There, another taped interview was planned. Dan Stidham later stated he learned about the transfer on the evening news. Together with his law partner Greg Crow, they rushed to Corning to intervene on behalf of their client. They insisted their client not make a statement. Stidham called Judge Burnett at home to stop the proceedings or to delay it until Misskelley had a psychiatric exam that had been requested earlier in the week. Burnett described receiving the call. "Y'all were asking me to make a ruling from my den where I was watching TV in my underwear.

" [Judge Burnett,
February 22, 1994 Hearing]


On Thursday evening, February 17, 1994 Jessie's next taped confession began with admonitions from his lawyers.


Crow [echoing Dan Stidham]: Jessie. You realize that I don't always agree with everything that Dan says but this time I agree with him. I don't think you should say anything. [Misskelley taped confession, February 17, 1994]

The confession took place at the office of Joseph Calvin, deputy prosecuting attorney for Clay County. Prosecutor Brent Davis undertook most of the questioning with Calvin adding several questions.

Excluding procedural matters, Jessie made 193 responses to questions*. Again, the interrogators spoke the majority of the words, 2593 to 1449 words from Jessie. Ninety questions were yes/no, 53 requests for details and 32 were open ended. The open ended questions often took the format "What happened next?" [*These statistics are based on the official transcription presented here. There are errors in this transcription. Questions that were repeated were sometimes left out.]

Unlike the June 3rd taped confessions, Jessie often responded he did not remember (16 instances). This may have been due to the increased time that had passed or because Davis specifically phrased questions asking whether he remembered.


Davis: And do you know, do you have any idea what time it was about when you got to the woods?
Misskelley: No I don't. [ibid]
Davis: Do you remember what Damien was wearing?
Misskelley: I can't remember to this day.
Davis: Ok. Do you remember what Jason's wearing?
Misskelley: No I don't.
[ibid]
Misskelley couldn't even remember whether he could remember.


Davis: Are there events that took place that night, things that happened that you, that it is somewhat difficult to remember?
Misskelley: I can't remember. [ibid]

Misskelley described the face cut as a scratch.


Davis: Ok. Where describe to me what, what you saw Jason do?
Misskelley: He first he cut one of 'em on a face on his left side just a little bit like a scratch. [ibid]

Misskelley now said that the victims weren't raped. Several exchanges, although the following summarizes them.


Davis: Ok. You said that he was going to screw the little or stick his penis in his behind. What did you see Damien do?
Misskelley: They didn't do it, he was going to it, then they didn't. [ibid]

Misskelley incorporated all of his alibi into the events.


Davis: And had you seen anybody in Highland Trailer Park right before you left to meet up with those two [Echols and Baldwin]?
Misskelley: Yes.
Davis: Ok and who had you seen?
Misskelley: Louie, Susie, Stephanie, Pat, Boomer ..um.. Cody, Stephanie, Bobbie, you know some cop and there was some more people I couldn't tell you. [ibid]
Davis: Ok. Who threw 'em in the water?
Misskelley: Damien and Jason.
Davis: Ok. Now were you there when that happened?
Misskelley: I was getting ready to leave.
Davis: Ok. Why were you getting ready to leave?
Misskelley: Cause I was going to wrestling. [ibid]

At the end of this confession, Jessie's lawyers added their opinions to the tape.


Stidham: Misskelley is perjuring himself. Do you have an opinion Mr. Crow?
Crow: I have a very strong opinion that he is perjuring himself. [ibid]

Over the next several days, the prosecution continued to meet with Misskelley at his prison cell. According to Davis no tapes or notes were made. [February 22, 1994 hearing].

The Fiery Aftermath

Stidham was furious. In a hearing on February 22nd, Stidham raged that there had been prosecutorial misconduct and insisted the court initiate an investigation.


Under Arkansas law the prosecution can't even call Mr. Misskelley once they've been notified that he would assert his Fifth Amendment privilege. They had no right whatsoever to pick him up at the Department of Corrections and transport him anyplace, much less the prosecuting attorney's office in Rector, Arkansas. [Dan Stidham, February 22, 1994 Hearing]

Stidham claimed that his client had been kidnapped and that the prosecution had dangled permission to have his girlfriend visit him in prison as a reward for cooperation.


Stidham: Mr. Misskelley instructed me on tape on Tuesday, February 15th, at Pine Bluff, Arkansas, in the assistant warden's office that he did not want to testify, that he wanted me to pursue this appeal and that is a course of conduct that I undertook, and it was in the best interest of my client. I informed the prosecutor that he was not going to testify. Under the law, the prosecutor at that point was duty bound to leave Mr. Misskelley alone. They did not do that. They kidnapped him, brought him to the prosecutor's office... [ibid]
Stidham: Basically they strongarmed him into believing it was in his best interests to testify. They even promised to bring his girlfriend to see him at the jail, Judge, and I think that is the most abhorent, ridiculous, flagrant violation of my clients' rights that I have ever seen. [ibid]

Davis countered that he had been in contact with co-counsel Greg Crow and the transfer and interview was done with Crow's consent. Davis stated that Stidham had lost his perspective and was not pursuing the best interests of his client.


Davis: What was said was, I said, [to Crow] "I'm tired of talking with Dan. Dan has lost his objectivity. He no longer is doing what is in his client's best interest. He's on a crusade. If I arrange to bring Jessie back up here, would you go with me and meet with me to talk with him?"
He said, "I'm inclined to do that if you get him back up here." And at that point I went ahead and prepared the order and I made arrangements to get him back up here because, frankly, I felt like until I did and until I got with Greg Crow and could meet with him, that there wasn't going to be anything accomplished.
[Davis, ibid]
Davis further stated that Crow had insinuated that Stidham had not only lost his perspective, but was losing his mind.
Davis: At one point Mr. Stidham did call your Honor, and I think at the point where he asked that - told the Court that Jessie Misskelley needed a psychiatric evaluation, Mr. Crow, who was sitting next to me at that time, made the comment that someone in the room needed a psychiatric evaluation but he wasn't sure that it was Jessie Misskelley, Junior. [ibid]


Stidham disputed Davis' account, saying that Crow had not given consent for such a meeting.


Stidham: Mr. Crow has told me that that did not happen. Furthermore, I resent the fact that the prosecuting attorney has to decide what my duties as defense counsel is and his desire to call my law partner and tell him that I'm off my rocker and I don't know what my client's telling me. [Stidham, ibid]
Stidham: Mr. Crow called Mr. Calvin and said, "We are not going to meet you at your office with our client. We are not going to do that." They did it anyway. [ibid]

Crow was not at the hearing, he had a conflict due to an unrelated deposition. Stidham offered Crow's affidavit - an important account that I don't have available. Judge Burnett, however, did read a portion into the record.


Burnett, citing Crow's affidavit: "On Wednesday February 16, 1994, [one day before the taped session at Corning] the prosecuting attorney, Brent Davis, telephoned me and requested permission from myself and my co-counsel, Mr. Stidham, to interview Jessie Lloyd Misskelley, Junior. Said permission was never granted."
Stidham: That's correct, your Honor.
Burnett: The way I'm seeing it there's a difference of opinion between Mr. Davis and Mr. Crow as to what was said on Wednesday before the order was obtained bringing him back.
[February 22, 1994 hearing]

Judge Burnett rejected Stidham's arguments. He fired Stidham - partly.


Stidham: Your Honor, am I being relieved?
Burnett: No. You have the obligation to perfect the appeal unless you are relieved by the Supreme Court. [ibid]

For matters related to negotiating Misskelley's testimony, Burnett appointed another attorney, Phillip Wells.



Phillip Wells, Petition for Attorney's Fees, March 24, 1994
With the prospect of Misskelley testifying the other defendants' attorneys joined in the melee and matters became topsy-turvy. Echols attorney Scott Davidson, brought up the matter of a tape that Stidham had said he had played to the prosecution announcing that Misskelley would not testify.


Davidson: We also request a copy of any tape that Mr. Stidham has that he played for Brent's secretary and thereby wouldn't be privilieged anymore.
Fogleman: It is the client's privilege.
[Baldwin attorney] Paul Ford: Are you representing Mr. Misskelley now?
Fogleman: Somebody has got to.
Ford: Y'all don't have a conflict -- you two gentlemen -- the prosecutors --
Stidham: It seems incredulous that the same two guys who are wanting to kill him two weeks ago are now his best friends -- [Hearing, February 22, 1994]

Ultimately, Misskelley declined to testify.

The Statement in the Appeals

Referring to Misskelley's February 17th statements, Burnett declared,


Burnett: I told [Davis]... that if they were going to take a statement against your [Misskelley's lawyers] desires and over your objection, that the boy should be afforded that protection, that anything he said from that point on could not be used against him in any subsequent legal proceeding. [ibid]

By Arkansas law, the initial appeals are reviewed by the trial judge. As part of the proceedings, Burnett did take into account Misskelley's February 17th statements, a decision upheld by The Supreme Court of Arkansas.

Thus, while the trial court erred in its interpretation of section 16-112-208(e)(3) to include only evidence of guilt, it was not error for the court to consider the immunized statement of Misskelley taken on February 17, 1994. [Arkansas Supreme Court Decision, Misskelley, 2010, Ark. 415, p. 7]
The statement was attached in response to Echols request for DNA testing. Oddly, even though the issue was DNA, it was the only attachment.


In previous pleadings in circuit court, the State relied upon and attached as an exhibit Misskelley's post-conviction statement inculpating the defendants. The Arkansas Supreme Court concluded that under its decision in Echols v. State, 2010 Ark. 417, SW 3d, the statement was part of "all" the evidence to be evaluated on remand. See Misskelley, 2010, Ark. 415, at 7 [excerpted immediately above]. Thus, the State will again rely on that statement as well as others made by Misskelley at the coming hearing and in any post-hearing briefing. [State's Reponse to Echols' Motion for Additional DNA and Other Forensic Evidence Testing. April 8, 2011]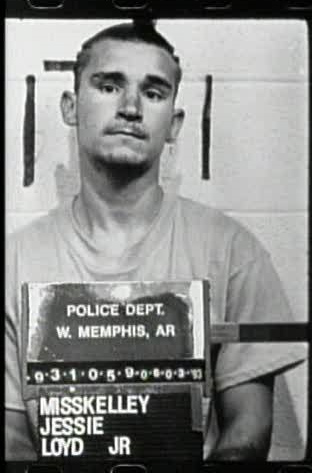 Misskelley at the time of arrest.