Ghosts of Crimes Past

For a town of its size West Memphis has had an unusual number of high profile cases of multiple murders involving children.

In 1961, 15 year old Gurvis Nichols shot to death two ten year old children, stating that he did it because he wanted to see God. He was sent to a mental institution and later released, believed to be living in Germantown, a suburb of Memphis, in 1993. The police attempted to locate him to question him about the 1993 murders but could not find him.

In 1985, Ronald Ward, aged 15, was tried and sentenced to death for the murders of Lois Townsend Jarvis, 76, Audrey Townsend, 72, and Chris Simmons, 12. Fogelman and Davis were the prosecutors. At the time, he became famous as the nation's youngest inmate on death row. Two years later he won a retrial and his sentence was reduced to life without parole. He has recently died in prison.

In 1988, further down 14th Street, Barbara McCoy and Mary Williams killed McCoy's two children, Bianca Tirado, aged 7, and Maximillion McCoy aged 2 in what was described as an exorcism gone bad. Just before the trial was to have begun, the main witness died, India McCoy, aged 17. Barbara McCoy plead innocent due to insanity and received 13 months in a mental institution before being released to the community. Mary Williams was also eventually released, but the timing and details of her release are unknown to this author.

There had also been a spate of child murders in Eastern Arkansas leading up to the time of the killings in West Memphis, and authorities and the media wondered if they were related.
Authorities Wonder If 6 Kids' Deaths in East Ark. Are Related
Memphis Commercial Appeal, June 3, 1993.

[excerpt] The three boys murdered in West Memphis are among half a dozen cases -- all of which remain unsolved -- of children killed in a four-county area in East Arkansas over the past two years.
The three murders that were speculated as having been connected to the West Memphis killings were:
May 4, 1991: Hickory Ridge - Christina Marie Pipkin, 9, disappears. Her body was found in a ditch five days later.
May 21, 1992: Wynne - Geneva Smith, 13 disappears. Her body was found in the St. Francis River ten days later.
Oct. 13, 1992: Wynne - Gardenia Jones Cross, 16, died of puncture wounds to temple and cuts to the face and neck.
A later article in the Commercial Appeal speculated whether another death in Wynne was related to these.
July 8, 1993: Ark. Officials Seek Body's ID. A decomposed body was found by two farmers Wednesday morning in southwest Wynne, said police Sgt. Ronnie Baldwin. [snip] It was not known whether foul play was involved. The body is the fourth found in Cross County since May 1991. Foul play was believed to be involved in the other three deaths.
And, finally, a 13 year old boy, Lance Guthrie was found shot to death in Forrest City on July 3, 1992. There is nothing to connect him to the above deaths beyond young age, time period of his death and location.

Were the murderers ever found in these cases? In two of the cases, arrests were made, but no convictions. In November, 1999 Johnny Key and Freddie Jones were arrested for the murder of Geneva Smith. According to Sheriff Ronnie Baldwin, the case fell through when the main witness backed out. As an odd coincidence, Freddie Jones had an arrest in Crittenden County, his case number #1993-667.

Also in November of 1999, Robbie Dale Tubbs, 38 was arrested for the murder of Christina Pipkin. He was found not guilty when his lawyer discovered the main piece of evidence against his client, a DNA sample matching the victim, was actually a laboratory mix-up: the same sample was being compared to itself (hence the match).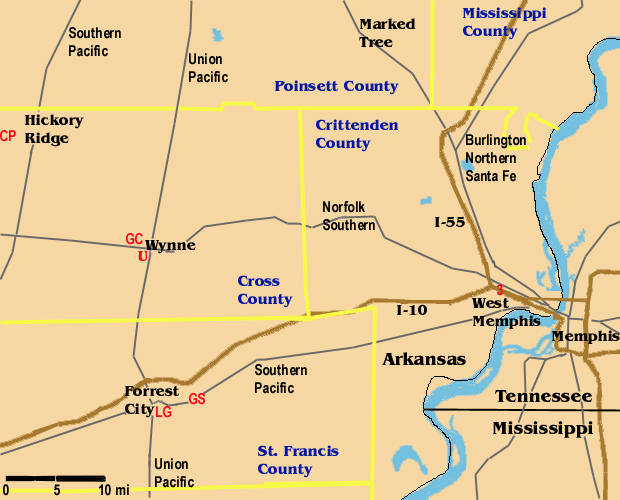 Homicides and unexplained deaths, Eastern Arkansas, 1991 - 1993.

CP = Christina Pipkin, aged 9, May 1991.
GC = Gardenia Cross, aged 16, October 1992.
GS = Geneva Smith, aged 13, May 1992.
LG = Lance Graham, aged 13, June 1992.
U = Unidentified, found July, 1993.
3 = Christopher Byers, Michael Moore, Steve Branch, aged 8, May 1993.

Brown lines = Interstates.
Yellow lines = county lines.
Gray lines = railroads.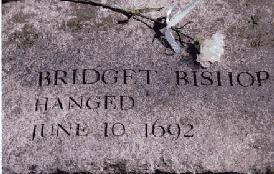 Ghosts of Crimes
In the More Distant Past