State's Exhibit 37A. Det. Ridge retrieves Michael Moore's Cub Scout Cap from the water.
The Evidence - The Clothing.

On May 26, 1993, three weeks after the murders, Chief Investigator Gary Gitchell wrote a letter to Kermit Channel of the Arkansas Crime Laboratory complaining they were missing basic information about the case. Among these were an estimation of the times of death and whether the children had been raped or dragged. There were also some primary questions about the children's clothes.
From Gitchell's letter of what was needed:


(3) Pictures of clothing of the boys and the other set of clothing found away from the crime scene. We took some pictures, however, we did not disturb clothing so not to lose any possible forensic evidence which the lab could possibly find.
(4) Which clothing belonged to which boy?
If the lab can lay out the clothing and take photos we could get parents to ID the clothing. We feel this is important due to two sets of clothing were turned inside out and one set taken of (sic) in a more proper manner. Can it be determined from the clothing if the boys were wearing their clothes when they were initially taken. Is there any tears or blood or punctures found in the clothing of the boys?
There was no reply to this letter; the arrests had been made one week later. Many questions regarding the clothes remain unanswered. Below is a detailed summary of the information regarding the children's clothes. This information comes from several sources.


1. The missing persons reports.
2. Neighbors who described what they saw the children were wearing.
3. Interviews with family members which occasionally include additional information.
4. The crime scene report included some descriptions of the clothes that were recovered.
5. The evidence lists. These refer to the clothing that was gathered at the crime scene.
6. Police photos of individual clothing items.
The children were tied up by their own shoelaces. This is a topic of its own and the shoelaces are not discussed in detail below.
From the Missing Persons Reports
Stevie Branch
He was last scene (sic) wearing blue jeans and white T-shirt.
Chris Byers
He was last seen wearing blue jeans, dark shoes and a white long sleeve shirt.
Michael Moore
He was last seen wearing blue pants, blue Boy scouts of America shirt, orange and blue Boy scourt hat and tennis shoes.
From the Door to Doors
Two of the neighbors in the door to door surveys described the children's clothes.
Christy Blanchard: "Saw 2 of the boys, 1 with cubs scout t-shirt + 1 with white t-shirt."
Otto Bailey, Jr.: "both boys had back packs green Steve had w/red shorts + wt shoes"
From Other Interviews
John Mark Byers on the Leeza Show said:
I said, "How did you find him?" and he named the officer that happened to step into this little creek that ran into the main bough [unintelligible]. He saw a tennis shoe. A purple and white Nikes and I just bought those for Christopher two days before.
John Mark Byers in his 5/19/1993 interview with the police:
Ridge: Okay. How about a wallet, billfold?
Mark: He did have several billfolds. I was shown a blue one with a red stripe on it. And my wife and I have both looked at it and thought about it. My son, Ryan, could definitely ID it and they were going to show it to him.
Clothing Recovered.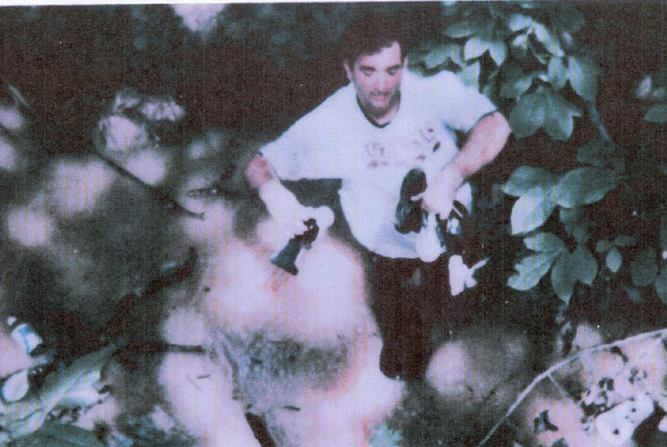 Det. Ridge recovering shoes from the water. State's Exhibit 34.
Relevant Excerpts From the Crime Scene Notes
Page 3.
Near #1 Body - 3 - pair of Jeans were located.
["Boy" is crossed out] Cub Scout - Blue / Yellow Cap Located.
also three pairs of tennis Shoes located by #1 Body.
[#1 body was Michael Moore]
Some of the clothes were described in further detail on page 4.
Left Shoe - Tennis (CUGA - Shoe) - Black / Purple Shoe / Black lace is still there.
Rest of the tennis shoes located do not have shoe strings in them.
Cub Scouts of America Shirt Located in Creek Close to Body #1
- 1 Pair of Jeans found is a Rustler Brand - 7 - Slim Turned inside Out.
Cub Scout Shirt - Size 8
1-Pair of Nientendo Super Mario Underwear - Located Size 6
Located Close to Body #1.
1 - Under Shirt - Blk / White - White designs - turned inside out
Located Close to #1 Body
1 - Size 8 - Coast Highway Brand - Stripped Shirt - Surfboard design - turned inside out.
Located Close to Body #1
Lt. Hester also made notes regarding the clothes. These are in agreement with the above although she did add the Coast Highway brand shirt was striped with "people with surfboard designs on ... the bottom"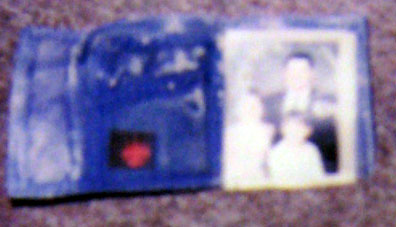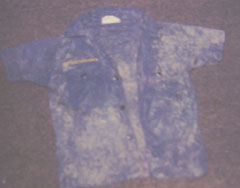 Michael Moore wallet.
Michael Moore Cub Scout shirt.
From the Evidence Lists
A floating shoe was described as the reason for checking the creek further, resulting in the discovery of the children whose bodies were stuck in the mud at the bottom of the creek. Other clothes were found underwater, held down in the mud by a stick. These were entered into evidence, with individual items marked E and a number (E#). Swatches of these samples were analyzed for fibers, biological materials, and soil.
E1 blue boy scout shirt
E2 white polkadot shirt described as black white check surface dye
E3 pair blue pants
E4 one white tennis shoe, right
E5 cub scout blue/yellow cap
E6 one black tennis shoe/purple interior.
E7 blue jeans and blue wallet
E8 one black right tennis shoe with purple interior
E9 black and white striped shirt with surf board design.
E10 pair childs underwear described as multicolored or red
E11 one white left tennis shoe
E12 one size 3 right black tennis shoe and one sock
E13 pair blue denim jeans
E14 one size 3 left black tennis shoe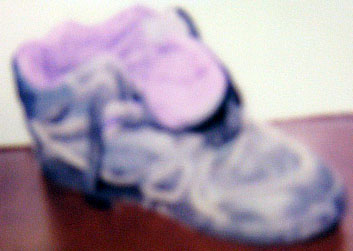 Cuga shoe with black shoe lace intact.

Summary of the Items of Clothing Recovered
Three pairs of pants, three shirts, six shoes, one sock, one pair of underwear, and one cap.
Missing: five socks, and two pairs of underwear.
Not mentioned here are the shoelaces.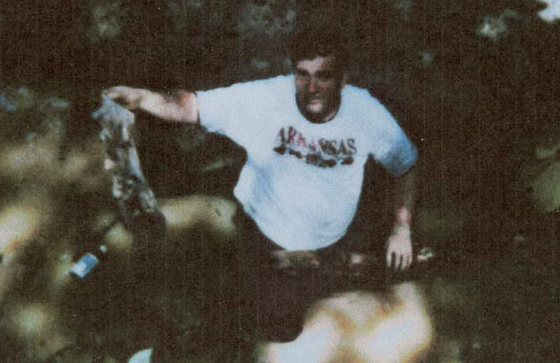 Det. Ridge recovering other clothes. State's exhibit 38.

Grouping and Consolidating the Above Information
Shoes and sock:


E6 and E8 are both described as black tennis shoes with purple interiors. E8 is described as the right shoe, so E6 is the left shoe. The left purple and black shoe is described as having a black lace still in it and is described as a CUGA brand. In separate photos these are described as boy's size 13.
E12(a) and E14 are both described as size 3 black tennis shoes (interior not mentioned), right and left, respectively.
E4 and E11 are described as white tennis shoes, right and left, respectively. Mark Byers said Chris was wearing white and purple Nikes, although the missing person report says "dark shoes." Otto Bailey, Jr. said Steve Branch wore white shoes. CUGA advertised as being just like Nikes (only less expensive) and the ones recovered did have a purple interior. Perhaps the CUGA shoes belonged to Chris.
E12b is the only sock found. It was found inside a black shoe (E12).
Pants and underwear:
E3, blue pants. Michael Moore is described as wearing blue pants, the others as wearing blue jeans. These may be Moore's pants. On the other hand, the pants with the wallet in it (notes below) may be his pants.
E7 blue jeans with a blue wallet. Unknown if this belonged to Byers or Branch. May also have belonged to Moore if this is his wallet (notes below).
E13 blue denim jeans. Unknown if this belonged to Byers or Branch.
Either E7 or E13 is a size 8 Rustler's brand jeans.
E10, the only pair of underwear is described as multicolored or red in the evidence notes. From the crime scene notes these were described as size 6 Nintendo Super Mario underwear.
From Mark Byers interview (above) it is unclear whether the recovered wallet belonged to Chris. In the book, Blood of Innocents, there is a brief description of Det. Mike Allen examining a recovered wallet and finding a photo of Michael Moore's father and a toy sheriff's badge. It is possible there were two wallets, a blue one with a red stripe and the blue one noted by Mike Allen, or else it is possible the blue wallet is the same as the blue and red wallet and the wallet shown to the Byers did not belong to Chris. The latter is consistent with the fact that the evidence lists only mention one wallet.
Shirts and cap:
E1, blue cub scouts shirt. Michael Moore's.
E2, white polkadot shirt also described as black white check surface dye. Described in crime scene notes as an undershirt, black/white, white designs. Unknown if this belonged to Byers or Branch, although there is an old photo of Steve Branch wearing a white polka dot shirt.
E9, Size 8 Coast Highway brand black and white striped shirt with surfboard design - people on surfboards on the bottom of the shirt. Unknown if this belonged to Byers or Branch.
E5, cub scout blue/yellow cap (described as blue/orange in the missing persons report). Michael Moore's.
Missing items:


The five missing socks and two pairs of missing underwear are suggestive that the murders were committed elsewhere and the clothes were brought to the site where the children were found. An incomplete dumping of the clothes is easier to imagine than perpetrators who chose to keep only five out of six socks and two pairs of underwear.

Continued in "Laces and Bindings"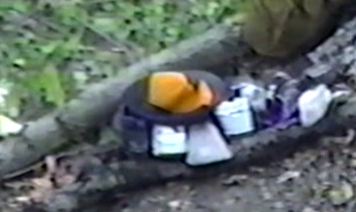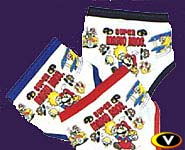 Items of clothing placed on the east bank, near Moore. Super Mario Brothers Underwear.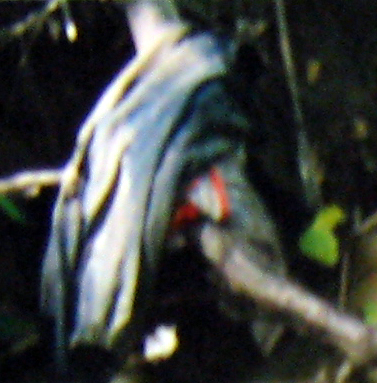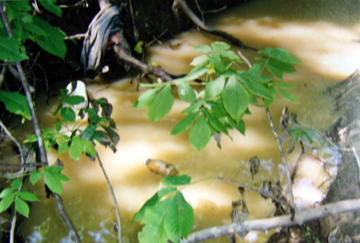 From evidence photo labelled "boy pants." Jeans strung over a branch.
Image cropped from larger version of photo on right.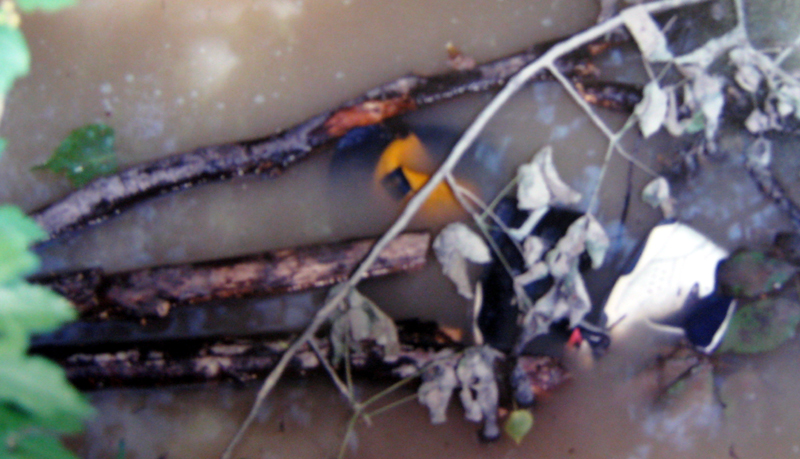 Shoes and cap and sticks in water, before recovery. Full size.